'Glory' coming to big screen

Filmmaker hopes to take LDS genre to another level

CORRECTION published Oct. 3: Russ Holt is the writer-director and Scott Swofford is the producer of the upcoming film "The Work and the Glory." A story in Thursday's Deseret Morning News misstated their jobs.

By Dennis Lythgoe
Deseret Morning News

Up to now, LDS filmmaking has been taking baby steps, according to screenwriter Russ Holt. But he hopes his big-screen adaptation of Gerald Lund's "The Work and the Glory" will step it up a notch.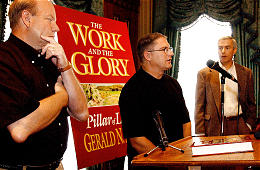 Larry Miller, Scott Swofford and Russ Holt are teaming up on film project.


Laura Seitz, Deseret Morning News

"We feel it is time to go beyond that to another level, because the genre has come of age," Holt said during a news conference Wednesday, where the upcoming film was announced.
With Holt were the film's chief financial backer, Larry Miller; Sheri Dew, president of Deseret Book; and Scott Swofford, who will direct the film.
When pressed for the budget, Miller, who will serve as the film's executive producer, reluctantly announced that it will cost $7.4 million.
"The Work and the Glory: Pillar of Light" will be the first in what is intended to be a film series, with as many as "five or six movies," Miller said. The book series has nine volumes. The first was published in 1990, and more than 2 million copies in the series have been sold by Deseret Book. The books tell the story of the fictional Steed family in the early 19th century and their involvement with The Church of Jesus Christ of Latter-day Saints, as they mingle with real-life characters in the midst of dramatic historical events.
Swofford, an experienced documentary filmmaker, and Holt, whose credits are primarily for LDS Church-sponsored movies, have formed Manchester Pictures to produce "The Work and the Glory." Dew pledged marketing and distribution support, including production of the film's soundtrack and the eventual DVD.
Casting calls will begin immediately in New York, Los Angeles and London, where the producers will seek "top-notch talent" for the roles of the Steed family and other characters. Swofford said shooting will begin "immediately," but that "the bulk of the filming will take place in the spring and summer of 2004, with the goal of finishing it in late 2004 or early 2005."
Elder Lund, the books' author and a member of the LDS Church's Quorums of the Seventy, is currently serving the church full time in England. Dew read a message from him that his books have "all the elements of great drama — conflict, courage, betrayal, treachery, love, sacrifice, violence."
He will act as a consultant, and he retains the right to approve the script. Elder Lund also said he is "especially pleased" that Miller is involved.
Miller, the well-known owner of the Utah Jazz and numerous automobile dealerships, said he began reading the first volume of "The Work and the Glory" in 1993 and "became hooked 50 pages into it."

http://deseretnews.com/dn/view/0%2C1249%2C515035779%2C00.html