'Work and Glory' a 'dream' job for composer Cardon
By Carma Wadley
Deseret Morning News
Sam Cardon can't think of many — if any — projects he'd rather work on than the music score for "The Work and The Glory." "For a guy living here, this is a dream project."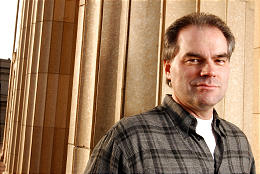 Sam Cardon


The book, after all, has had a huge following. With more than 2 million copies sold, it is certainly one of the most popular religious historical fiction series ever.
The fact that it reflects his own beliefs contributed to Cardon's joy while working on the project. But so did the overall feel of the film. "They've assembled some great people. It was a thrill when I saw it for the first time. It looks like a major studio film. It just looks good."
And it is a movie, he feels, that has a broad appeal. "There's stuff for guys. There's stuff for girls. There's a lot of substance. And the visuals are unparalleled. It was shot mostly in New England and Tennessee. It's hard to believe there are places that beautiful on Earth."
When he was first asked to do the music, Cardon said, "I started listening to everything I could find that was connected to New England. I thought I wanted to concentrate on that New England aesthetic.
"Then I saw the movie and I totally switched gears. I realized that this is really a great romantic epic. And the music needs to make you feel the drama, the love story, the conflict. Where it is set is not as important as the feelings it generates." And that, he said, "makes it a lot of fun for the composer."
Another thing the composer in him appreciated was that he had a lot of lead time. "I could spend a lot of time developing themes. I could throw out things that were inferior. I could ponder and think. And I was very excited to be working with a creative team that I had worked with before. They are smart, talented people."
That only makes the composer's job easier, Cardon said. "It was good knowing that the music wouldn't be required to fix a bad film, as sometimes happens. Here, the challenge was keeping up with the quality of the film."
Still, he said, there are some trepidations. "People's expectations will be huge. Almost everyone in the culture knows the story. It's had a tremendous impact. And they know this is a big-budget film, so they will be expecting a lot."
Everyone who has read the book has his own concept of what the characters should look and sound like, Cardon said — of what the film should be. "But I don't think they will be disappointed. I think the filmmakers got it just right."
And he hopes people will say the same about the music. "It's a big, romantic score. I think the orchestra captures that bigger-than-life feel. And there was so much richness to draw from. It's a dream project for a composer. Absolutely."
"The Work and the Glory" is the latest in a long line of film scores Cardon has been working on in recent months. He recently finished scoring an IMAX film, "Mystic India." The film began as a cultural project for the Hindu Swaminarayan sect, which was building a visitor's center in Delhi, and then it was picked up as an IMAX project. It also involved several trips to India — "a fascinating place," he said
Cardon has scored several National Geographic IMAX films, including stories of Lewis and Clark, Antarctic explorer Ernest Shackleton and "Forces of Nature," which explores earthquakes, volcanoes and tornadoes. A couple more are in the works, including films on physicist Stephen Hawking and another on Pompeii. "I'm very excited about that one," he said.
There's an epic scope to "The Work and the Glory," but Cardon said, "I feel much more prepared than I used to. I feel cautiously optimistic that I can handle it."
He added that it's a good time to be involved with LDS films. "Exciting things are happening. They just keep getting better."
---
E-mail: carma@desnews.com